The Irvine Ranch Outdoor Education Center overnight program meets and exceeds over 100 California Educational Curriculum Standards! Our overnight camp is not only educational but creates memories that last a lifetime.
From the moment they arrive, our program provides opportunities for self-discovery, confidence-building, and interpersonal skills. Every student is immersed in mindful concepts such as leadership, observational skills, and environmental stewardship. We connect students to science and nature through interactive, hands on activities.
Browse Programs
Below please find detailed descriptions of the programs we offer or download our guides.
Outdoor Science School
Wacky Science Immersion
Goes well with: Planetary Walk and Astronomy
One of our most popular programs in which students learn the basics of chemistry and biology through fun hands-on experiments! Students are educated in concepts such as covalent bonds and how we create and break them, non-Newtonian liquids and how they bend the laws of physics, and how matter can go through fascinating processes such as sublimation and deposition. Students also experience both implosions and explosions, as well as learn about acidic-basic reactions to fully understand the differences between physical and chemical reactions. The students will be able to extract, isolate, and observe the DNA of different fruit/vegetable in minutes. Our trained instructors can juggle fire, create explosions and teach about free radicals, convection, and thermal energy in a safe yet captivating way.
Planetary Walk
Goes well with: Wacky Science and Astronomy
A unique program that focuses on physics and our own solar system. Students will have the opportunity to practice the scientific method by inferring what adjustments might affect in each station and then they will test their hypothesis. Students learn about engineering while creating their own bottle rockets and how their designs affect the vector and trajectory by shooting off their rockets. They will experiment with concepts such as potential and kinetic energy, learn how to tell time by understanding the interactions between the Earth and the Sun and infer how we explore our galaxy. Students will walk a to-scale trail of the solar system, learning about the size, spacing, and other fun facts about our planet and solar system.
Mine Immersion
Goes well with: Geology Hike and Square Dancing
A perfect rotation for California students which combines the basics of geology, mining, and the history of the Gold Rush. As the immersion that gives the most "take-aways", students are able to crack and keep their own geodes after learning the unique way they are created, learn the different characteristics of rocks in order to help identify them, and experience several different mining practices in a very real way. Our facility offers a fully functioning 1800ft mine-simulation, complete with mining helmets with lights, shovels and pickaxes, authentic mining sounds, and two digging areas. Students are fully immersed in what a real mine would sound and look like. They are also able to pan for gold in real sluice boxes while learning about how miners were able to get land to mine on, and how they panned for it. They then visit the Assay Office to learn how gold and other metals are tested for their purity and value. Students also focus on the real positive and negative implications of mining upon our society, our environment, and improvements in the field that will affect both safety and sustainability.
Ranch Immersion
Goes well with: Ecology Hike and Sustainable Energy
At the ranch, your students will explore the relationship between humans and the environment in a small-scale agricultural setting. Students will identify orchard pests and discover the role that beneficial insects play in helping us maintain a healthy and biologically diverse agroecosystem. We will take a close look at the importance of pollinators and explore the symbiotic relationship between humans and the European honey bee (Apis mellifera). We will also investigate the living compost system and discuss the role that decomposers play in the nitrogen cycle. Students will make observations and form hypotheses regarding plant health and test for macronutrients and pH levels in the soil. We will discuss the role of photosynthesis in the cycling of matter and flow of energy into an out of living organisms. Additionally, we will examine the distribution of water resources on earth and discuss the water cycle. Students will have the opportunity to explore the garden and orchard; harvesting and juicing fruits and vegetables to enjoy fresh from the earth. In the end, students learn the important lesson that if we take care of the earth, the earth will take care of us!
Sustainable Energy Immersion
Goes well with: Ecology Hike and Ranch Immersion
During the sustainability immersion, students will apply scientific principles to design methods for monitoring and minimizing human impact on the environment. We will explore scientific approaches to protecting the Earth's natural resources and discuss the factors that have led to the uneven distribution of the Earth's mineral, energy, and groundwater resources. Students will investigate factors that have caused the rise in global temperatures over the past century and analyze and interpret data on severe weather events related to global climate change. Finally, students will devise sustainable solutions to environmental issues and brainstorm concrete actions that individuals and communities can take to protect the planet.
Hikes
Geology Hike
Goes well with: Mine Immersion and Square Dancing
A hike all about our rocky planet, the Geology Hike takes place in the dry creek-bed that runs along the entrance of our camp. Students can stretch their legs and their knowledge while learning about Moh's Hardness Scale and how to tell if one rock is harder than another. While exploring Earth's surface, students will learn the effects of erosion and what can cause it. They will discover the law of superposition by examining cliff faces and making inferences; and that the reason why we know what is underneath the crust is due to the concept of Mohorovicic discontinuity. Students will be amazed at how tectonic plates move and they will have the opportunity to become one! After interacting with other tectonic plates, students will discover how fossils are formed. They will make their own impression fossils which they get to take home at the end of the week. Students are encouraged to explore the earth through fun activities and games that give them an interesting perspective on how the land around them was formed.
Ecology Hike
Goes well with: Ranch Immersion and Sustainable Energy Immersion
On the Ecology Hike, students will have the chance to explore patterns of interactions across multiple ecosystems. Students will compare biotic and abiotic factors in a coastal sage scrub ecosystem and in an oak woodland and discuss how the availability of resources influences plant and animal populations in these ecosystems. They will also learn to identify native plant species and observe how these plants have adapted to their environment by developing specialized structures that increase their probability of survival. Finally, students will gain a deepened understanding of food webs and the flow of energy through an ecosystem. Join us for an exciting exploration of the natural world!
OC Zoo/Ecology Hike
(Additional $2 per student)
The Zoo's focus is on animals and plants native to the southwestern United States. Animals on exhibit include black bears, mountain lions, bald eagle, island foxes, ocelot, red-tailed hawk, great horned owls, porcupine, coyotes, turkey vultures, coati and more. The zoo also features a barnyard with domestic goats, jacob sheep, pot-bellied pigs, doves and pheasants.
Evening Programs
Astronomy
In a remarkable experience of learning the new advancements of science in space and how humanity has interpreted it throughout history, students are able to virtually journey through space, identify and create constellations, and study celestial bodies through our telescope. They get the chance to learn many new concepts: how to identify planets versus stars in our night sky, how the moon acts in tandem with the earth and the sun, where stars and planets come from, and how to identify major markers in our night sky. Creativity, science, and history are combined to make a memorable and fun experience for students.
Square Dancing
Yeehaw, partner! Square Dancing is an opportunity for students to kick up their heels and just dance! In a night that is fun for all, students are taught how to square dance in the traditional neighborly Washington way, as well as learn several popular line dances. Students are then allowed to have an appropriate free dance party set to their favorite school-friendly hits. The program includes 1 hour of Square dancing, 30 minutes of line dancing, and 30 minutes of free dance.
Night Hike
One of the most unique programs our camps has to offer, this hike allows students to explore nature in the dark. No flashlights please! In this distinct opportunity, students can discover their own night vision while learning about how eyes work, why light can sometimes hinder our sight in the dark, and how the vision of other animals differs from our own. Students learn about local wildlife and how circadian rhythms affect both the animals around us and themselves; both when they are awake and asleep.
Aquatics
Day Swim
Our day swim can be selected as a morning or afternoon activity. The participants can enjoy a refreshing jump into the pool and have a fun turn down our 188-foot water slide. Swim tests are available for students to cross into the deep end (7 feet), or they can stay in the pool depths of 3-5 feet without completing a swim test. The height requirement for the water slide is 4 feet or taller. The pool is open March-October and is dependent on our lifeguard's availability.
Night Swim
(No water slide)
Our night swim program can be selected as an evening activity. The participants can have a safe, fun, refreshing pool party as the sun sets in the background. The participants can enjoy a refreshing jump into our junior size Olympic pool. Swim test are available for students to cross into the deep end (7 feet), or they can stay in the pool depths of 3-5 feet without completing a swim test. Pool is open March-October and is dependent on Lifeguards availability during the weekdays of the school year (September- June).
Leadership
Overnight Leadership Camp
The Leadership Overnight Program at the IROEC provides middle school, high school, and collegiate students with the opportunity to advance their leadership capacity with peers at school, with their friends and family, and in their communities. Our enthusiastic and knowledgeable staff will facilitate a memorable and immersive experience! Our programs are designed to equip student leaders with the skills to excel in their future endeavors and improve their proficiency in critical thinking, communication, collaboration, and character. Become a leader of tomorrow, today!
Program Offerings:
Some specialized activities EXCLUSIVE to Overnight Leadership Program include and not limited to the following:
Leadership Quadrants/True Colors
Marshmallow Structure Challenge
Breakout Box
Amazing Race
Scavenger Hunt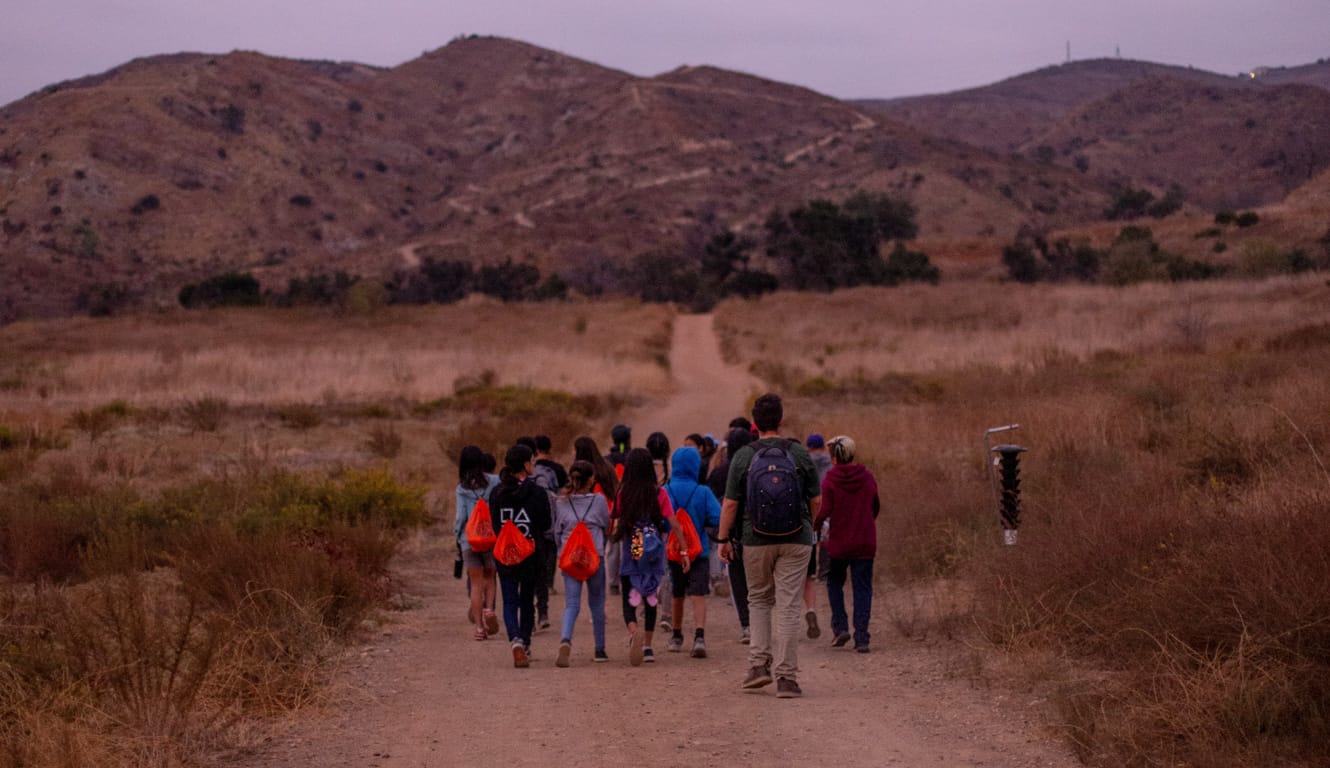 Looking for More Information?