The staff is some of the nicest, most welcoming, warm group I've ever had the pleasure of working with. The staff is what really makes this place a hidden gem and one of the best-kept secrets in all of OC.Chen
Regina Engle
Camping Director
Regina has been with the IROEC since spring 2018. Beginning as an academic program instructor, she now serves as the Assistant Program Director. She has spent time working for a variety of scouting programs and camps including Philmont Scout Ranch. Her diverse experience as an outdoor educator includes guiding backpacking trips in New Mexico, dogsled tours in Minnesota, and leading cultural exchange programs in China. Regina earned a Bachelor of Science in Recreation and Sport Management from Indiana State University and received her Certified Nonprofit Professional credentials through the Nonprofit Leadership Alliance.
Regina believes strongly in the positive influence the outdoors can have in people's lives and the IROEC gives her a place to share that passion. When she isn't working, she loves spending time outdoors, exploring new places, and planning her next big adventure.
---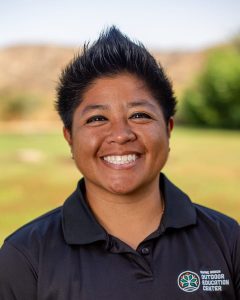 Stephie Daquioag
Adventure Hill Director
Stephie (aka Mama Smurph) has been a loyal team member of The Irvine Ranch Outdoor Education Center and OCBSA family since 2010, proving herself a valuable asset early in her career for the facility's Project C.O.P.E. Course (now named Adventure Hill) with her many years of professional facilitation. Proudly serving as The Adventure Hill Director for The IROEC, Stephie has the honor of zipping the youth of Orange County down The Anaheim Ducks Quad Zip line, facilitating in-depth leadership and teambuilding camps and sessions, and training new C.O.P.E. Directors at National Camp School.
To continue to provide all participants with a high quality, memorable experience dedicated to empowering all participants, she sought to expand her knowledge and professional development by earning her ACCT Level II Practitioner certification. Moreover, having an active part in the redesign of the new course reflects her passion and advocacy for the holistic, transformative growth for all people.
---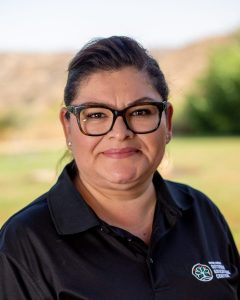 Angie Sauceda
Food Service Director
With over 19 years in the Food Service Industry, Angie's experience includes 2 years of managing the Dietary Food Program at Hoag Hospital. She has countless hours of training, monitoring and supervising of Nutritional guidelines, Health, Hazard Analysis Critical Control Point (HACCP) and sanitation for regulatory compliance within the Santa Ana Unified School District, through programs such as the National School Lunch Program (NSLP) and School Breakfast Program (SBP).
As a member of Partnership for Food Safety Education, Institute of Child Nutrition (ICN) and School Nutrition Association (SNA), Angie is certified and accredited by the American National Standards Institute (ANSI)-Conference for Food Protection (CFP) in Food and Nutrition as a Certified Food Protection Manager. Her mission is to prepare and serve meals of the utmost quality, freshness, and seasonality. She strives to combine a modern-creative touch with traditional Southern California cuisine to create a one of a kind experience.
---
Theo Geukens
Facilities Superintendant
Theo has been an adult scouter for the past 23 years. He has been involved in most of the Council properties and after the Canyon 2 fire that damaged part of the IROEC property the opportunity came up to help with the rebuilding process. Having a construction and inspection business of his own for the past 18 years he decided to retire from them and was hired to be part of the IROEC team. With his expertise and experience, he has fit in well. His nickname at camp is "Camp Dad" and being one of the oldest members on the team the name suits him well.
He is a Life Scout and still volunteers with his Troop as an assistant scoutmaster. One of his passions is being an Eagle Adviser for the past 13 years. He has been served in different District and Council positions with Orange County Council with his latest position being the Order of the Arrow Lodge Adviser.