Come experience our day immersion programs!
Groups will be provided a more in-depth academic version of one of the following:
Mine Immersion
A perfect rotation for California students which combines the basics of geology, mining, and the history of the Gold Rush. As the areas that gives the most "take-aways"; students are able to crack and keep their own geodes after learning the unique way they are created, polish and keep their own rocks in order to process a natural resource into a manmade one, learn the different characteristics of rocks in order to help identify them, and experience several different mining practices in a very real way. Our campus offers a fully functioning 1800ft mine-simulation, complete with mining helmets with lights, shovels and pickaxes, authentic mining sounds, and two digging areas. Students are fully immersed in what a real mine would sound and look like. They are also able to pan for gold in real sluice boxes while learning about how miners were able to get land to mine on, and how they panned for it. They then visit the Assay Office to learn how gold and other metals are tested for their purity and value. Students also focus on the positive and negative implications of mining upon our society, our environment, and improvements in the field that will affect both safety and sustainability.
Wacky Science Immersion
One of our most popular programs in which students learn the basics of chemistry and biology through fun hands-on experiments! Students engage concepts such as covalent bonds and how we create and break them, non-Newtonian liquids and how they bend the laws of physics, and how matter can go through fascinating processes such as sublimation and deposition. Students are also able to observe both implosions and explosions, as well as learn about acidic-basic reactions to fully understand the differences between physical and chemical reactions. The students will be able to extract, isolate, and observe the DNA of different fruit/vegetable in minutes. Our trained instructors can juggle fire, create explosions and teach about free radicals, convection, and thermal energy in a safe yet captivating way.
Ranch Immersion
At the ranch, students will explore the relationship between humans and the environment in a small-scale agricultural setting. Orchard pests will be identified and the role that insects play in helping us maintain a healthy and biologically diverse agroecosystem will be discovered! Students will take a close look at the importance of pollinators and explore the symbiotic relationship between humans and the European honey bee. We will also investigate the living compost system and discuss the role that decomposers play in the nitrogen cycle. Hypotheses will be formed regarding plant health and testing for macronutrients and pH levels in the soil will be carried out. Students will learn about the role of photosynthesis in the cycling of matter and flow of energy into an out of living organism. Additionally, the distribution of water, resources on earth and the water cycle will be discussed. Students will have the opportunity to explore the garden and orchard, harvesting and juicing fruits and vegetables fresh from the earth. In the end, students learn the important lesson that if we take care of the earth, the earth will take care of us!
Our son completed science camp and could not be happier. He had a wonderful experience. What he learned in 3 short days far exceeded our expectations.Colleen M.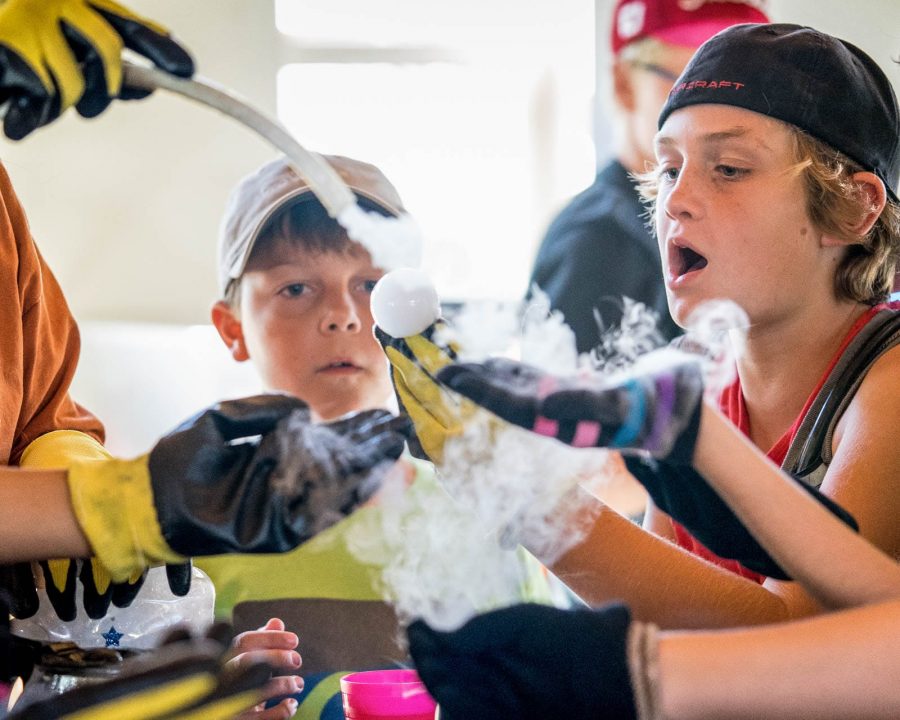 Looking for More Information?